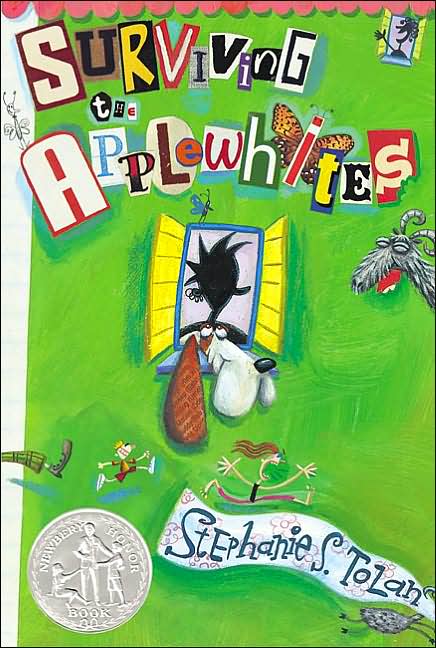 There was something in the book that made me buy it. The discounted price, the attractive cover design, the synopsis, the author's name. Probably. I seldom buy books from authors I haven't read before or was not recommended by anyone. This one pulled me, perhaps the Newberry Honor seal was another factor. The seal indicates, I learned, that it was a runner-up of the
John Newbery Medal
, the first children's literary award in the world given by the
Association for Library Service to Children.
Yes, it was about a child, a delinquent teenager, Jake Semple, 14 years old. I felt an instant connection as I worked with women and children, who may or may not be delinquent, but have several issues making their lives difficult.
Jake has red spiked hair and follows a Goth-inspired look. From his look alone, one may conclude already that Jake is indeed a problem child. He loves to curse and enjoys the flabbergasted look of adults hearing him. He consistently violates rules and regulations of institutions he had been to since the time his parents were imprisoned for growing marijuana on their backyard. His grandfather took custody over him, but found himself helpless in addressing the rebel in Jake.
"Education is an adventurous quest for meaning of life, involving an ability to think things through."
His last chance before going to juvenile prison was his stay at the Wit's End Academy of the Applewhites – an alternative academy run by artists. The Applewhite clan, a family of artists composed of a director, a poet, a novelist, a sculptor, a painter, and a ballerina, resents the structure of mainstream education because of a teacher not allowing her student to paint a zebra black and purple. The old Zedidiah Applewhite believes that
"Education is an adventurous quest for meaning of life, involving an ability to think things through."
Surviving the Applewhites
(2002) revolves around how Jake slowly discovers himself in the company of artists who accepted him despite his hostility and have high tolerance for his unique style and expression. His journey with the Applewhites led him to discover the artist in him, as well, and eventually embrace the changed boy he had become.
Overall, it was a good book. A must-read for adults dealing with delinquents as it shows some tips how to address the rebels in teenagers by employing some patience and understanding. At the same time, the use of art was emphasized as a tool for expression and therapy in an informal setting.
This is my first Stephanie Tolan, and I hope to read a second one.